Sushi, grilled fish, cold and hot snacks
Name
Hokkai Kitchen
Address
Egmondstraat 2, 1976 BR IJmuiden
Opening Hours
Tuesday – Saturday 12:00 – 19:00, Sunday / Monday closed
Tel
+31(0)6-13146246
Web
www.hokkaikitchen.nl
facebook.com/HokkaiKitchen
Reservation
+31(0)6-13146246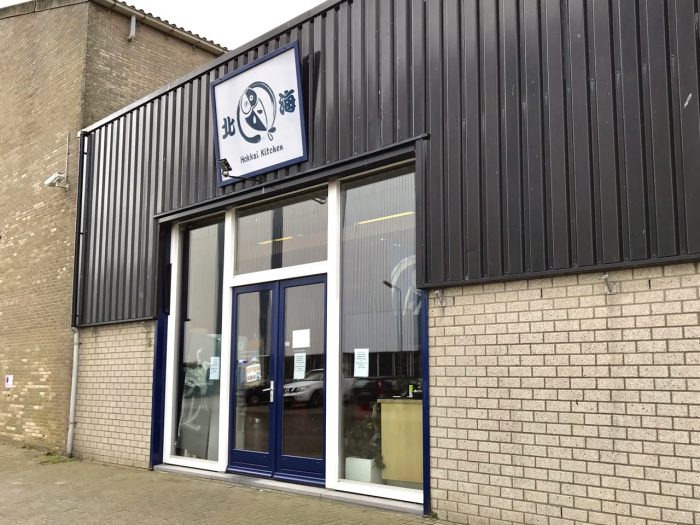 Mr Kuniyoshi Ohtawara pursued an unusual path to become a chef as he had not imagined becoming one. Inspired by his cousin who danced ballet and went all over the world, the Tokyo kid's dream was also to go abroad. A good way which worked out to learn English and save money was working in the hotel service.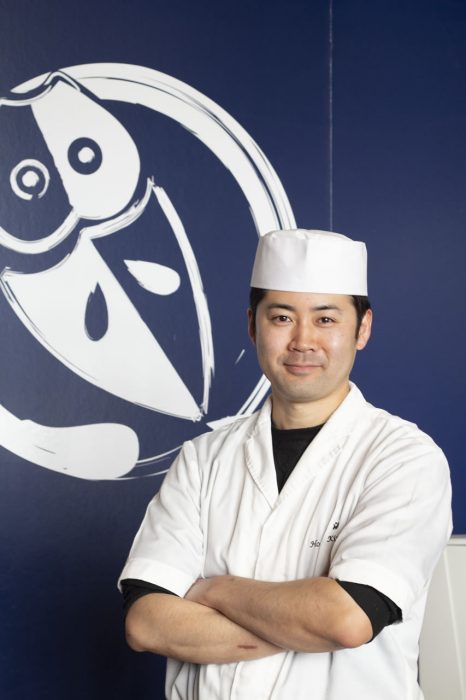 After working at Okura for a year in Australia, his biggest chance came: going to Amsterdam as a teppanyaki cook at Sazanka. He was trained in Tokyo and moved to Amsterdam in 2005 where he would meet his wife-to-be. Wanting to expand his capabilities, he learned and trained from zero through all positions in the kitchen of Yamazato. When he was thinking of challenging himself and going out of his comfort zone to spread washoku (Japanese food) to Dutch people, he met again with Mr Marinus Noordenbos, the president of Hokkai Suisan (North Sea Fisheries).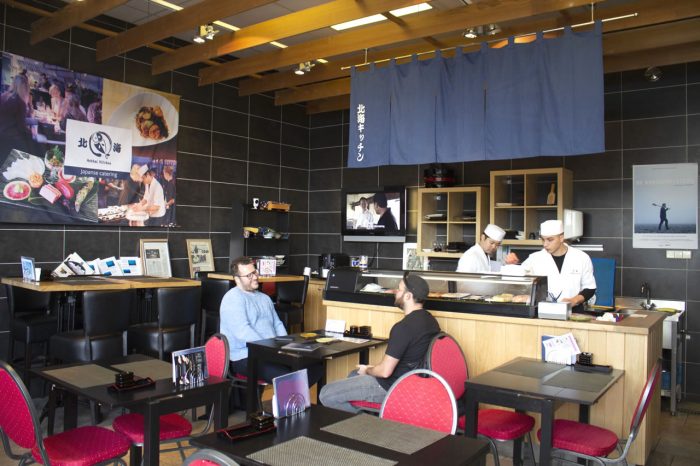 Thus Hokkai Kitchen opened in 2014, right next to Hokkai Suisan's facility in IJmuiden. The mission is to make washoku (Japanese food), especially Japanese-style grilled fish, a daily choice of food just as Chinese, Italian or Indian curry. At Hokkai Kitchen Kuni is happy to be able to serve the customers right across the counter. "About 90% of our customers are Dutch and locals and 10% Japanese. There is a growing interest in Japanese food and I can directly explain my craft and answer their questions," he says.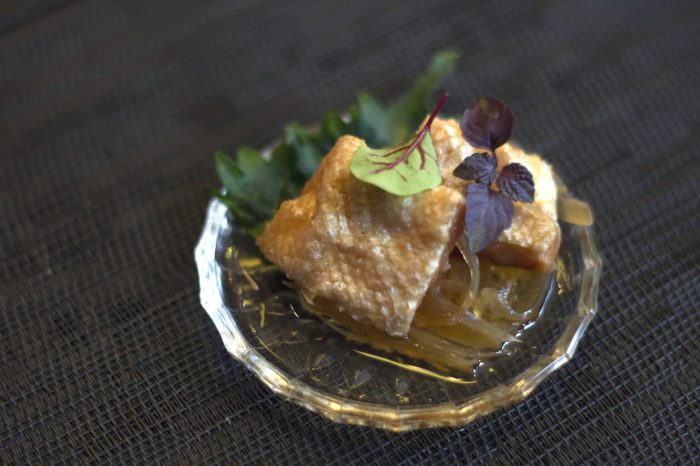 Today Hokkai Kitchen mainly offers sushi, sashimi and grilled fish along with some warm dishes and snacks. In the future, they also plan to serve udon and soba noodles. Recently they created a shop space behind the restaurant where you can purchase the frozen fish products and other Japanese items.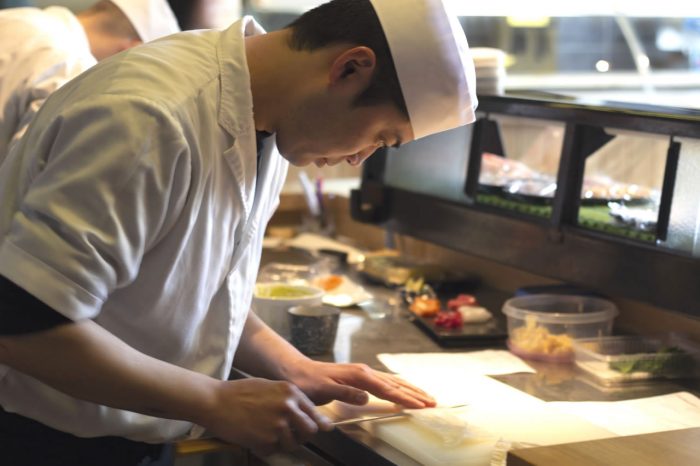 Kuni wishes to offer unique items which you can only eat here. "I draw a graph as an image in my mind to balance everything. For example, to balance out the sour sushi rice and the salty umami of the fish, I created a slightly sweet sashimi sauce". Recommended sushi items are a wide range of white fish, whiting, red mullet and gurnard. "In IJmuiden you get the freshest fish straight from the dealers at the auction before they're damaged by ice and delivered to anywhere else. We're very blessed to be here".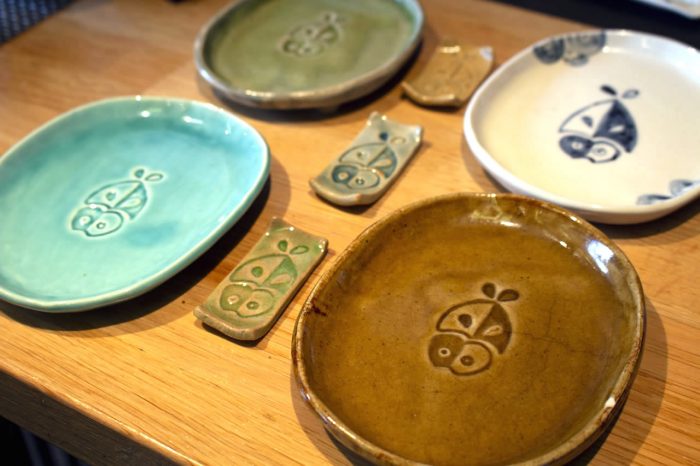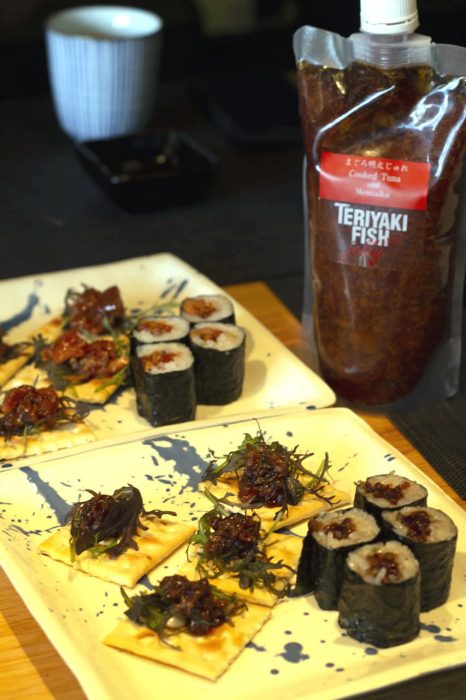 Kuni and Marinus are an eager team to experiment and try out new things. They decorated the facility to throw a successful seven-course pop up restaurant for two days. An open day to introduce the locals to Japanese fish products demonstrating how to cook them. Various catering and pop up events when they were not as busy as today with Hokkai Kitchen. Dishes with the horse mackerel logo made by Setsuko, Marinus' sister-in-law, who is a ceramist and designer. A gelée type of sauce they created which goes well both on rice and crackers. The list goes on.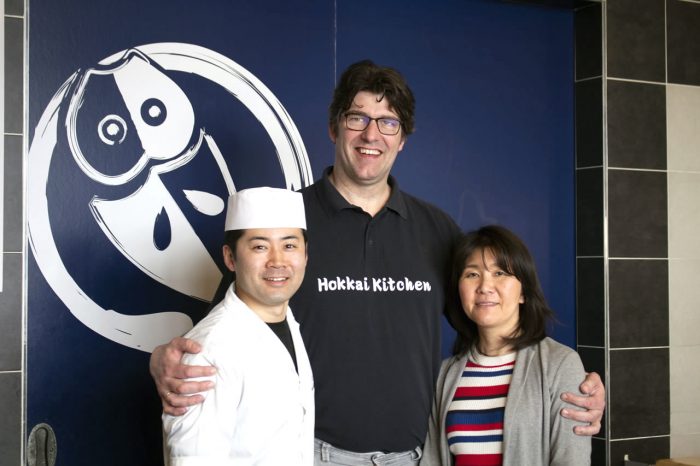 "Hokkai Kitchen is a great match with what I want to do. In my opinion, there's a great opportunity in the Netherlands compared to big cities like London and Paris where things are pretty much established. I think this is going to be my lifework".
Now being a father of a ten and a one-year-old, he hopes for his children to grow internationally. "Possibilities and chances are abundant if you are in the Netherlands. But most importantly everyone watches over children. People even teenage boys would warn the parents that the kids are doing something wrong or dangerous. This won't happen in Tokyo.  Everyone is stressed out and busy. Here people are more relaxed and have leeway to care for each other and that's what I really like and appreciate". His lifework in the Netherlands with the family has still just started.