Fish shop, takeaway sushi and catering, pre-order bento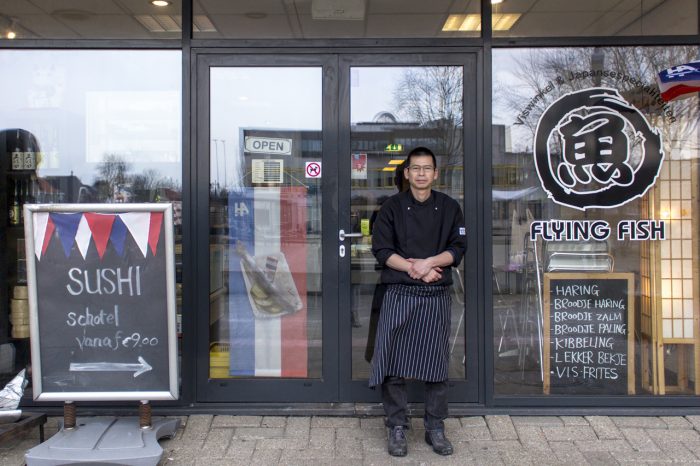 Mr. Shigeyuki Nakamura runs together with his wife Kaoru the only Japanese-run fish shop in the Netherlands: Flying Fish. Opened in 2003 by the previous owner, Flying Fish has catered regional needs for seafood in Amstelplein shopping centre in Uithoorn. They offer fresh sashimi, sushi, Japanese ingredients, Dutch raw herring (haring), smoked eel (paling) amongst many more Japanese specialties.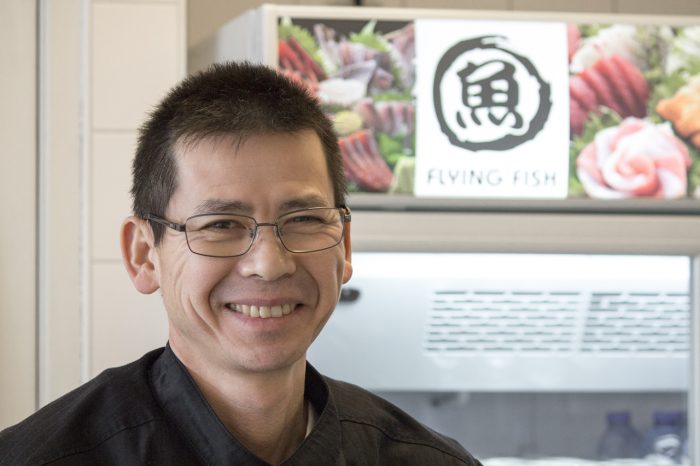 "As we have Dutch customers, I better speak broken Dutch than broken English", says Mr. Nakamura with a smile. About 60% of their customers are Dutch and many of them wave at the owner couple as they walk past their shop. "I guess the Netherlands fits me well. That's most likely why I have come back and stayed for over 20 years."
Born and raised in Kagoshima Prefecture in the southern island of Kyūshū, his interest in food began to grow at a young age from his food experiments at home. Being the youngest of seven children he taught himself how to cook and prepare meals as his parents were both busy working. After graduating high school his desire to explore the food industry and the world lead him to work as a teppanyaki cook at the Okura Hotel in Tokyo.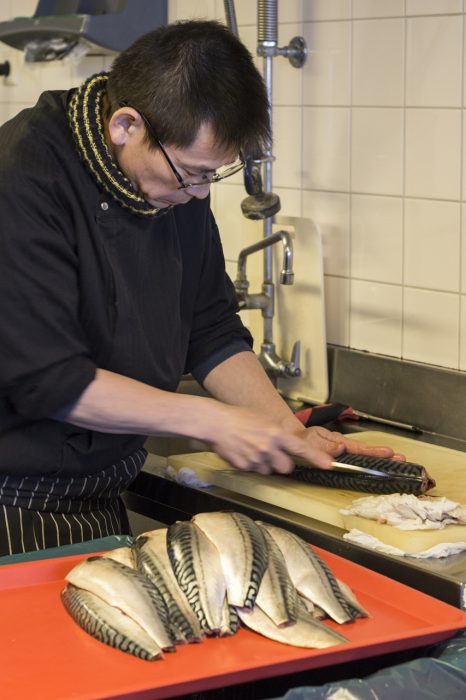 In 1990, his dream to go abroad was fulfilled by the opportunity to become a cook of washoku (Japanese cuisine) at Shiro Restaurant in 's-Hertogenbosch in the Netherlands. During his training he learned how to deal with fish which lay the basis of his work today. He returned to Japan after his three-year contract just to move back to the Netherlands a few years later in 1999. This time as a chef at a Japanese restaurant in the Hague he would meet his wife Kaoru, who had been working there as a waitress also following her dream to work overseas hailing from Akita Prefecture in Northern Japan. Since their marriage they have been blessed with a daughter and their fish shop which they took over in 2008.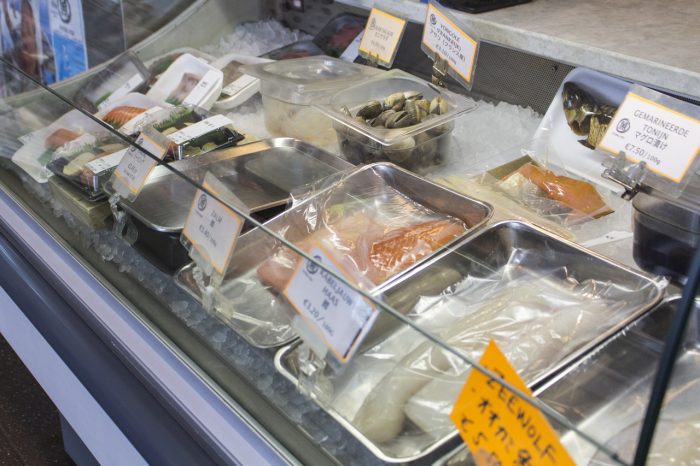 "What I really care about is the uncompromised freshness. I especially recommend our North Atlantic bluefin tuna that smoothly melts on your tongue." Every legally caught bluefin tuna is branded with an ID number. "You have to have an excellent eye to assess great quality fish and we only buy from the Amsterdammer broker we trust. We quick-freeze the tuna in our sharp freezer at minus 45 degrees Celsius which works the magic."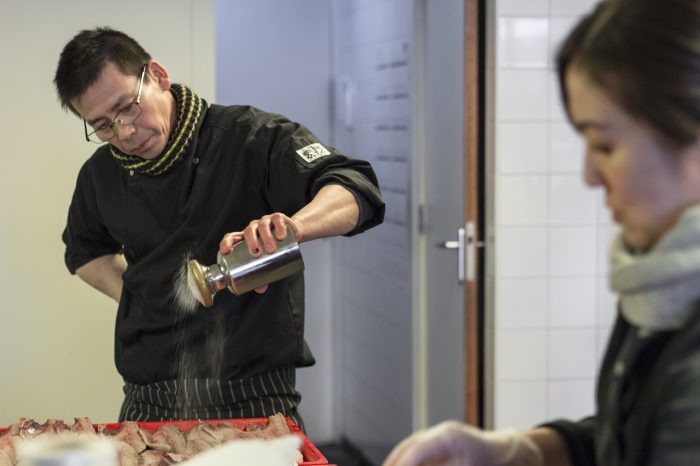 Mr. Nakamura also offers three kinds of workshops (https://www.flyingfish-uithoorn.eu/workshop-nl/) for sashimi, sushi and Japanese foods available in both Dutch and English. About 100 people have taken the workshops and around 20 people have received a personal certification upon completing all three classes.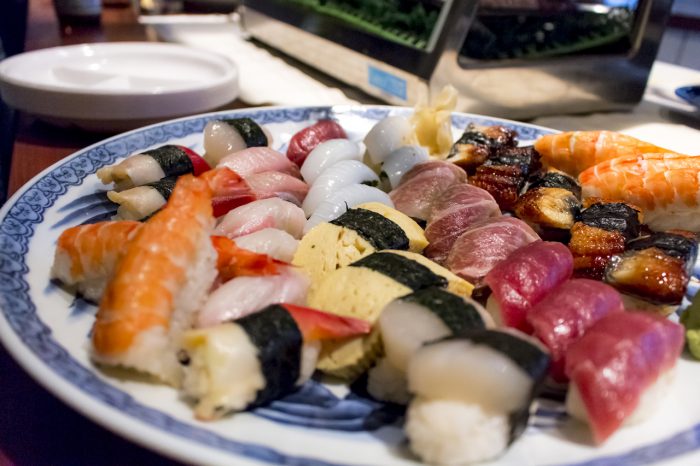 Most popular catering is the sushi party set but if you have a bigger budget, live sushi chef performance is highly entertaining as you can order your own sushi at the counter-style sashimi showcase.
For the true Japanese food enthusiasts, you can pre-order Japanese-style bento boxes (Tuesday through Friday) and seasonally limited Osechi, traditional Japanese New Year food boxes both for delivery or pick up.
Please contact for your special arrangements!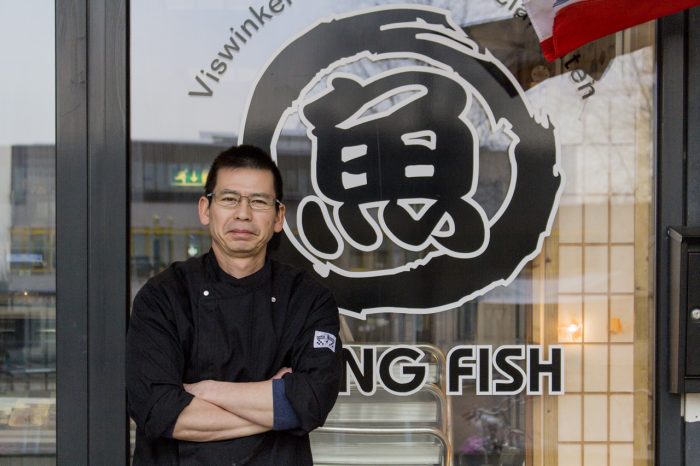 "Welcome to Flying Fish! It's our pleasure to share with you our real Japanese food culture. We always have fresh raw fish ready for you to try at home. And we are happy to make everything fresh for you to take away. We hope to see you soon in Uithoorn!"